Trinity Elms Health & Rehab
Trinity Elms Health & Rehab, which opened in July 2014, sits adjacent to Trinity Elms Assisted Living. Contemporary in concept, it offers four small neighborhoods, each designed to meet short-stay or residential needs.
Who We Serve
The new Trinity Elms Health & Rehab center is designed for long-term, skilled nursing care as well as short-term rehabilitation. Residents of Trinity Elms Assisted Living may now have the option of transitioning to Health & Rehab when they need a higher level of care.
What We Offer
Like other LSC communities, Trinity Elms reflects a powerful culture-change movement that has positively affected everything from the approach to care to community design.
The new building incorporates a design featuring four beautifully appointed neighborhoods that allow groups of about 25 residents to share living, dining and recreational spaces in a setting that is homelike rather than institutional.
Both short-term and long-term residents will appreciate a hydrotherapy pool and a driving simulator as they navigate the road to recovery.
Administrator Mary Beth Lemly has many years of experience as a nursing home administrator and is happy to be part of Lutheran Services Carolinas.
Trinity Elms offers short-stay rehab guests and long-term residents:
Round-the-clock skilled nursing care and physician coverage
Private and semi-private rooms with private bathrooms and showers
Family-style dining, with homemade baked goods and breakfasts made to order
Licensed dietician and social worker
Speech, physical and occupational therapies
A state-of-the-art Hydroworx hydrotherapy pool
Dental, podiatry and other services as needed
Chapel, pastoral care and worship services
Leisure opportunities, outings and special events, headed by our life enrichment team
Hair salon and barber shop
Pets and children's playground
Transportation services
Wireless internet, cable TV and personal telephone options
Six different courtyards, one featuring a beautiful fountain
A secure neighborhood to protect those at risk of wandering
Staff members trained in and dedicated to providing personalized, resident-centered care
North Carolina Rehabilitation Services
Are you recovering from an injury, surgery or illness?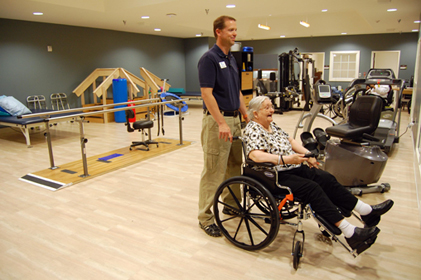 The rehabilitation team at Trinity Elms Health & Rehab will work with you and your physician to develop a comprehensive rehabilitation program to promote movement and function following:
Joint-replacement surgery
Stroke
Fractures
Traumatic injury
Other life-changing conditions
Physical and occupational therapists will develop and implement a personalized treatment plan to help you reach your goals as quickly as possible. Our mission is to provide you with the best care and therapy during your time with us and to get you back to your life as soon as possible.
A new Hydroworx hydrotherapy pool elevates rehabilitation to a whole new level for residents and short-term guests. Using the most recent technology, this 9' x 12' pool features a treadmill on the bottom.
A car transfer simulator is also available to help guests negotiate everyday tasks as they relate to the use of a car.
Employment
To see if there are any openings at Trinity Elms, go to the employment page of the Lutheran Services Carolinas website.